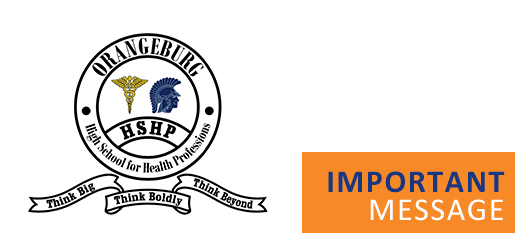 General Information:
The information reported in this packet will become part of your child's school record. Student record information will not be released to third parties or used for purposes other than routine daily and/or emergency contact needs without the knowledge or permission of parents, or legal guardians, except in accordance with the law.
Only a parent or legal guardian may apply for Orangeburg High School for Health Professions Enrollment.
When registering your child, please note that a separate application must be submitted for each child. Multiple application submissions for the same child or applications containing incomplete or inaccurate information will be excluded from the application process.
All applications will be processed electronically and checked for accuracy. Any falsification of information may result in your application not being processed and/or denied.
*Please also note that this website is optimized for IE 10.0 and higher, Safari, Chrome, and Firefox.
Available for 2023-2024 School Year
Available for 2022-2023 School Year
Information for Open Enrollment Applications:
Orangeburg High School for Health Professions Enrollment Information
Only returning students or students who have an approved lottery application for the 2022-2023 School Year may submit an enrollment application. It is encouraged, but not required, that the student and parent(s) attend the Information Night and/or a School Tour prior to applying.
⚠️ Important
Application Deadline:

August 8, 2022

.
---
For More Information, Contact:

School
Orangeburg High School for Health Professions
130 Howard Hill Drive
Orangeburg, SC 29118
Phone: (803) 535-1693

Technical Support
Scribbles Software, LLC
Email: help@scribsoft.com
Phone/Voicemail: (855) 465-1458
---
Business Hours:

Monday - Friday, 8:00 AM - 4:00 PM